Murata introduces 0603 size compact metal alloy inductors with 0.8mm profile, samples available from Anglia


Following the introduction of their MC-E and XP series of XLamp LEDs as well as colours to the XR range, Cree has released two new product summary sheets.

Diodes Inc has announced that it has further extended its Zetex LED driver series with the introduction of three new miniature LED drivers offering improved accuracy and thermal performance.

Carclo Technical Plastics has announced the immediate availability of a wide range of high performance polycarbonate optics to manage the light output from the new Cree XLamp® XP-E and XP-C LEDs.

The LED7706 is the new monolithic step-up LED driver for backlighting and lighting, able to drive up to 60 LEDs with very high dimming performance.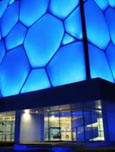 Cree LED technology has been lighting up several key venues in Beijing. Two of the most notable installations are in the "Bird's Nest" (National Stadium) and the "Water Cube" (National Aquatic Centre).

Providing the same high-quality lighting performance and proven reliability as Cree's XR LED range, but in an 80-percent smaller package. The XP series measures just 3.45 mm square x 2 mm high and enables new lighting applications.

Carclo has released a range of optics in order to support Cree's new multi-chip lighting class MC-E LED, which delivers 4 times the light output from its 7 x 9mm package size.

Cree has announced the newest addition to its industry-leading XLamp® LED family—the XLamp MC-E LED.

Cree has expanded its family of XLamp® XR-C high-power LEDs to include Royal Blue, Blue, Green, Amber, Red-Orange and Red. These LEDs are available in production quantities.

A family of three flexible LED Drivers from Zetex Semiconductors provides designers with the performance needed by the next generation of high brightness LEDs.